AIESEC Alumni Poland is proud to host AIESEC Alumni Europe's StepUp 2022 conference. The event brings together the executive boards of national AIESEC alumni associations and alumni community leaders from around Europe.
When? October 28th-30th 2022
Where? Ergo Arena, Gdańsk/Sopot, Poland

Agenda: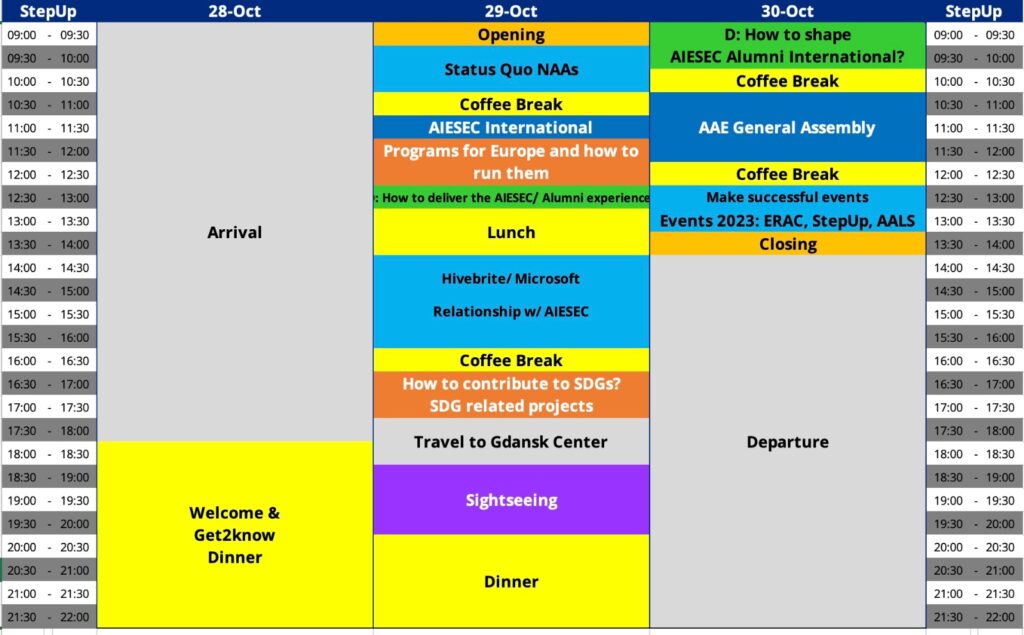 Fee: 530 PLN (ca. 110 EUR)
Included:
Conference venue, coffee breaks
Dinner (incl. water and soft drinks) on Friday Oct 28th and Saturday Oct 29th (excl. alcoholic drinks)
Lunch on Saturday Oct 29th
Evening activities / local sightseeing on Saturday Oct 29th
Not included:
Accomodation, breakfast
Transportation
Alcoholic beverages
Registration: fill in this form!
Payment: pay here! (note: this payment is in PLN so may want to check for potential currency conversion fees applied by your bank or card issuer!)
In case you prefer sending a standard bank transfer, please use the following details:
BIC/SWIFT: BREXPLPWXXX
Bank account: PL63114010100000520995001001
Beneficiary: Stowarzyszenie Alumni AIESEC Polska
Payment description: Donation for statutory activities
Accomodation: click here to view the suggested accomodation options where we have negotiated special discounts 🙂
Transportation: click here to see our guide about transportation to and within Gdańsk/Sopot.
Questions? OCP: marek.hojnacki (at) aiesec-alumni.pl